John McCain Jokes About Meghan's MSNBC Gig: 'She's Gone Over To The Dark Side'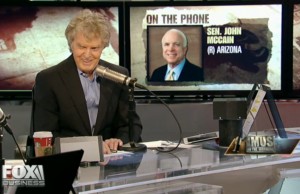 John McCain joined Fox Business Network's Don Imus on his Imus in the Morning show Monday morning, and, in a nine-minute segment, the duo hit on everything from Pakistan to a plane crash at Superstition Mountain. But McCain and Imus excelled when talking on topics that had a lighter tone; namely, MSNBC's hiring of the senator's daughter, Meghan McCain, and the greed associated with college football realignment.
Imus began the segment by saying what a great guest Meghan McCain had been during her appearances on his show, then bemoaned the fact that she might not be able to come on any longer because of her contract with MSNBC.
"She went over to the dark side, I guess," McCain said, laughing. "I hope she'll [still] be coming on. I'm very proud of her. I'm sure she'll do well. She's feisty, also, as you know."
Imus asked McCain about the plane that recently crashed into Arizona's Superstition Mountain, where Imus' brother's ashes are spread (McCain didn't have many details outside of what has been reported). He then touched on the 24 Pakistani troops that were killed by NATO forces, asking McCain how he would handle Pakistan if he were President:
"I would base our relations on the fact that their intelligence agency, ISI, is supporting a network that is killing Americans. That's a fact. And I would base our relations on that realism and base our aid on their progress and bringing that situation under control," McCain said, later adding that, "I think the whole relationship has to be re-examined. It's been out of control for years. They have enormous leverage over us."
Imus ended the interview on a much lighter note, asking McCain how he spent his Thanksgiving. McCain said he went to the Texas A&M – Texas football game, then lit into the problems that ail college football. "Greed…greed," he said. "This whole [conference realignment] thing that's going on right now has everything to do with money and nothing to do with purity of the sport. It's disgraceful."
Watch the full Imus-McCain interview below, courtesy of Fox Business Network:
Have a tip we should know? tips@mediaite.com