John McCain: Not Interested In 'Whole Tick-Tock, Back-And-Forth' Surrounding Romney's Reaction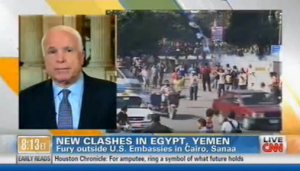 Sen. John McCain appeared on CNN's Starting Point Thursday, where he shared that he basically agrees with President Barack Obama's description of Egypt as not necessarily an ally, but also not an enemy.
He described it as a "country that's seeking its own way." But, he added, "we have to have a good relationship with with them or we should make every effort to have a good relationship with them. But we also have the right to demand certain things, as we've already talked about: Protection of our embassy. Not sheltering terrorist groups. Preventing the kinds of incidents that just took place from happening in the future."
As for the death of Chris Stevens, the U.S. ambassador to Libya, McCain said that he had "loved the Libyans. He loved the country. The last thing that Chris Stevens would want is for us to cut off relations with that country." He also noted that Libyans, by and large, feel gratitude and good feelings where the U.S. is concerned, despite having pockets of anti-American extremist groups within that nation.
The Senator also dismissed what he described as the "whole tick-tock, back-and-forth" swirling around the timing of and incorrect timeline reflected in Mitt Romney's reaction to the President and his administration's response to the turmoil overseas. Later, he said that he feels that Obama has not done all that he could when it comes to certain matters of foreign policy, namely where the ongoing violence in Syria is concerned. As such, he's not too concerned with attempts to dissect the timing of Romney's response. Plus, he joked, who wants to take strategic advice from a loser?
Have a look, via CNN:
Have a tip we should know? tips@mediaite.com