John McCain On Whether Hagel Opposition Is 'Payback': He 'Will Be Confirmed'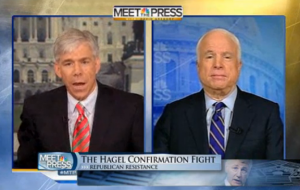 Since his nomination, Chuck Hagel's road to become the next secretary of defense has not been an easy one — and Sen. John McCain (R-AZ) in particular has been a vocal critic. On this week's Meet the Press, David Gregory questioned McCain, who conceded that Hagel would be confirmed.
Gregory pointed to McCain's "candid" statement about the opposition to Hagel stemming in part from his past criticism of George W. Bush. "Is that to say, senator, that it's payback time?" Gregory asked. "That's what this process has amounted to?"
"Of course not," McCain replied. Ninety-nine percent of it has to do with his positions he's taken, he added, which have not only been "out of the mainstream" but "far to the left."
Again, Gregory went back to cite remarks McCain made in the past, wherein he said he'd consider Hagel for his own cabinet. "What's changed?" Gregory asked.
"Time and Chuck Hagel's positions," McCain said, adding that he's no longer the right-of-center Republican he used to be. "But he will be confirmed," McCain asserted. "We will have a vote when we get back, and I'm confident that Sen. Hagel will probably have the votes necessary to be confirmed as the secretary of defense."
But they have an "obligation of advice and consent," he continued, pointing to "reasonable questions" about the nominee.
"You're not a yes vote for your old friend?" Gregory asked.
"No," McCain replied. "I don't believe he's qualified, but I don't believe that we should hold up his nomination any further because I think it's a reasonable amount of time to have questions answered."
Take a look, via NBC:

Have a tip we should know? tips@mediaite.com