John McCain Pushes Back Against Fox and Friends 'Mission Accomplished' Meme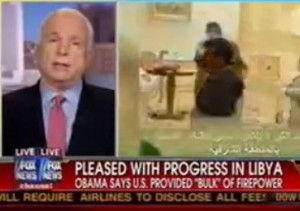 On the heels of his cranky joint statement on Libya, Sen. John McCain showed up on Fox & Friends Tuesday morning with a considerably more clear-eyed outlook. Invited by co-host Brian Kilmeade to jump in on their "Obama is 'Mission Accomplished' Bush" party, McCain refused to play along, saying, "It's over," called waning dictator Muammar Gaddafi a "bloodthirsty murderer," and threw cold water on the idea that the rebel government might be based on Sharia Law.

The appearance stood in stark contrast to McCain's joint statement (with Sen. Lindsey Graham) from yesterday, when, even as the Republican presidential field remained excruciatingly mum on the fall of Gaddafi, McCain had complaints:
Americans can be proud of the role our country has played in helping to defeat Qaddafi, but we regret that this success was so long in coming due to the failure of the United States to employ the full weight of our airpower.
For the guys who supported two wars, that have lasted a combined 18 years, to complain that defeating Gaddafi (in 5 months) took too long takes more balls than a Gnip Gnop parts warehouse, but McCain deserves some credit for his performance on F&F. Asked if President Obama was being premature when he said that  "In just six months, the 42 year reign of Muammar Gaddafi has unraveled" ("Or has it?" chimed Steve Doocy), McCain's response was an immediate "No."
Kilmeade had introduced President Obama's possibly premature remarks by citing Saif al-Islam Gaddafi's claims that his father is alive and spoilin' for a fight, which McCain immediately, and correctly, batted down as "PR stuff."
From Fox & Friends:
McCain's steadfast defense of the Libya mission's apparent outcome isn't an act of political generosity, by any stretch (he still manages to avoid mentioning President Obama anywhere in there), but rather, a recognition that, as an elected representative of the United States, the audience for his words extends beyond Fox News. McCain deserves credit for passing up an opportunity to score political points, in order to avoid undercutting our country's interests.
There will be some who will seek to make hay of the contrast between McCain's assessment of Gaddafi as a "bloodthirsty murderer" with the now-resurrected, two year-old tweet in which McCain called his 2009 meeting with the dictator an "interesting meeting with an interesting man."
While all's fair in love and political blogging, an honest person would recognize that McCain was holding his nose to pursue the then-US policy of improving relations with Libya. It would be nice, though, if conservatives would extend that same honesty to President Obama when he meets with hissable world leaders.
Have a tip we should know? tips@mediaite.com