McCain Reacts To HBO's Game Change: I Don't Use That Much Profanity In Real Life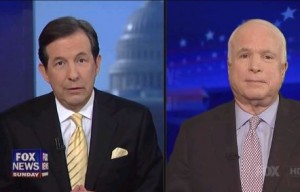 At the end of his appearance on Fox News Sunday earlier today, Senator John McCain weighed in on the HBO film that aired last night chronicling his 2008 presidential campaign and decision to choose Sarah Palin as his running mate. McCain admitted he did not see the TV movie, but based on everything he's heard about it, he does not believe it portrays an accurate picture of the campaign. Not only did McCain say that the movie is based on a biased view of the campaign, but Ed Harris' portrayal of him was too salty.
RELATED: John McCain Trashes HBO's Game Change, Director Defends
McCain told Chris Wallace that he was watching a Phoenix Coyotes game during the movie last night. From that point he started completely ripping the film. McCain said he finds it remarkable that almost four years later, people are still fixating on Palin's character. McCain defended his former running mate, saying her nomination "energized our campaign" and the movie is the latest attempt to "disparage and attack her character."
Wallace shifted the conversation from the portrayal of Palin by Julianne Moore to Ed Harris' performance as the senator. In the film, McCain is advised by Steve Schmidt to go with a "game-changing pick," and after a conversation about how McCain shouldn't run alongside another white, middle-aged politician, McCain says, "Find me a woman." The senator denied the conversation ever took place during the course of the campaign, before taking issue with one of the ways in which he is portrayed.
"I've been told that I'm portrayed as using an exceeding amount of coarse language. I don't use coarse language very often. I have a larger vocabulary than that."
Both McCain and Palin have asserted that the movie takes a great many liberties with the facts, but as Wallace noted, Steve Schmidt has said publicly that having seen the film, he says "it's the true story of what happened over those 10 weeks." Wallace asked McCain to respond not to Hollywood, but to Schmidt. McCain left it at a blunt "I regret that he would make such a statement."
RELATED: Lyin', Tigers, And A Bear, Oh My: Sarah Palin Hits Back At Game Change With New Ad
Watch the video below, courtesy of Fox:
Have a tip we should know? tips@mediaite.com
Josh Feldman - Senior Editor