John McCain Asks That AZ Immigration Law Outrage Be Directed To 'The Federal Govt.'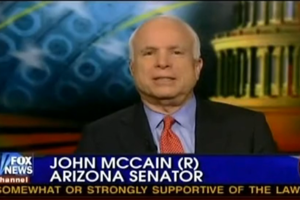 Arizona Senator John McCain made an appearance on Hannity to make a plea for his state after the city of Los Angeles announced an end to business within Arizona: Please don't boycott our state. Despite any moral objections to the law, McCain reminded viewers that a boycott of Arizona businesses "will be hurting a lot of Hispanic citizens who work in that business" and that the law is not Arizona's fault, but the federal government's.
McCain, who suddenly finds himself in a tight primary against radio host JD Hayworth amidst a political storm over the new Arizona immigration law, argued that the Arizona state government was not acting out of racism or malice when it passed the controversial immigration bill, but rather, they "acted out of frustration because the federal government didn't fulfill its obligations." The law allows police officers already in lawful contact with civilians to ask for government identification, but specifically prohibits racial profiling. "Please direct your anger to the federal government," McCain instructed the audience, "which has not secured your borders."
"Arizona is under siege," McCain continued, describing Phoenix as the kidnapping capital of the world and describing illegal immigration as a human rights struggle. Denouncing "the brutality that is inflicted upon the illegal immigrants by the coyotes"– the traffickers many illegal immigrants pay to help them cross the border– McCain hoped that Americans would take more of an issue with the "terrible human rights abuses" happening on the border and give Arizona a chance.
Video below:

Have a tip we should know? tips@mediaite.com