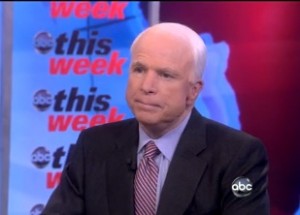 Republican Senator John McCain joined his colleague Senator Lindsey Graham in what seemed to be a coordinated message of urging their fellow Republicans to back off on their criticism of President Obama's handling of Libya. McCain not only feared that partisanship was trumping policy, but he was also scared of the rhetoric being used by the Republican presidential candidates.
McCain first reiterated a message he delivered earlier in the week regarding Republican attempts to invoke the War Powers Act to possibly limit Obama's efforts in Libya, "I would say to my Republican friends, if this were a Republican president, would you be trying to impose these same conditions?" McCain suggested Gaddafi is too dangerous for us to be playing political games, and urged Republican candidates for President to recognize the danger as well.
McCain suggested that President Ronald Reagan would be shocked to see the isolationist talk coming from the current crop of GOP candidates at the last debate and suggested:
"[Reagan] would be saying 'That's not the Republican Party of the 20th century, and now the 21st century. That is not the Republican Party that has been willing to stand up for freedom for people for all over the world.'"
The former presidential candidate makes it clear that he disagrees strongly with any Republican who claims Obama was wrong to take military action in Libya. Politics certainly makes for some strange bedfellows, because who could have predicted that one of Obama's loudest defenders on an issue would be the very man he defeated in a fierce election just a short time ago?
Watch the clip below from ABC:

Have a tip we should know? tips@mediaite.com