John McCain Tells Soledad O'Brien: Whether Santorum Stays In The Race Is 'Basically Irrelevant'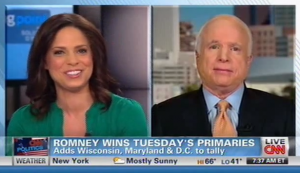 After Mitt Romney swept the three Tuesday night primaries, Rick Santorum maintained that it was merely "halftime" in the race, showing no signs of dropping out. Appearing on CNN's Starting Point Wednesday morning, Sen. John McCain told Soledad O'Brien that whether Santorum stays in the race, at this point, is "basically irrelevant."
After a good chuckle about the Senator's fondness for ABBA, O'Brien asked, "Governor Romney leads in delegates, but what do you think the plan is moving forward?" McCain replied, "I think, Soledad, that Mitt Romney has already pivoted to the general election campaign, that whether Rick Santorum stays in or not, it's now basically irrelevant, and Mitt has a lot of ground to make up."
He added that it's been a "nasty primary" and Romney's unfavorables are high — but said he's confident Romney can make up for it. "But the fact is," McCain observed, "that every day that goes by without being in the general election campaign mode is a day lost."
O'Brien followed up, saying, "You know, it's interesting the way you're framing that, you know, it's been a nasty primary as if it's now done," while the Santorum campaign is insisting that's not the case. She further asked about Pennsylvania, which Santorum is slated to win.
It's a "given" that people win their home states, McCain said. "But there's no way you can do the math and see any other result than Mitt Romney winning the nomination."
Toward the end of the segment, O'Brien asked McCain for his advice to Romney about vice presidential candidate picks. He replied, " I think that I would obviously tell him that not to rush to judgment, for one thing, but also we have some very highly qualified candidates ranging from Marco Rubio to Chris Christie to Mitch Daniels to Bobby Jindal." Rubio, he added, would be a prime contender.
Take a look, via CNN:
Have a tip we should know? tips@mediaite.com