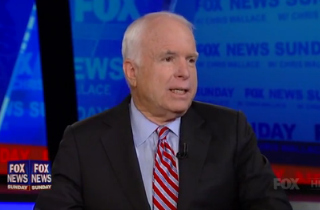 Appearing on Fox News Sunday this morning, Sen. John McCain (R-AZ) said that the real problem with the Obama administration's response to September's terror attacks on the U.S. consulate in Benghazi has more to do with President Barack Obama than with U.N. Ambassador Susan Rice, despite McCain having spent weeks going after the ambassador.
After host Chris Wallace asked the senator whether he'd vote for Rice to succeed Hillary Clinton as Secretary of State — something he has repeatedly said he would not do — McCain declined to reiterate his staunch opposition.
Wallace then asked if there was anything Rice could do to win over McCain. "She can give everyone the benefit of explaining their position and the actions that they took," the senator replied. "I'll be glad to have the opportunity to discuss these issues with her."
He continued: "I think she deserves the ability and the opportunity to explain herself and her position, just as she said. But she's not the problem. The problem is the president of the United States who in a debate with Mitt Romney said that he had said it was a terrorist attack."
The comment comes after several weeks of Sen. McCain and several of his colleagues going after the ambassador for her response to the Benghazi attacks during a string of Sunday morning news shows the weekend after the tragic assault that resulted in the deaths of four Americans abroad.
Watch below, via Fox:

— —
>>
Follow Andrew Kirell (@AndrewKirell) on Twitter
Have a tip we should know? tips@mediaite.com