McCain Warns GOP: Arizona, New Mexico, Colorado Could Be 'Up For Grabs' In 2012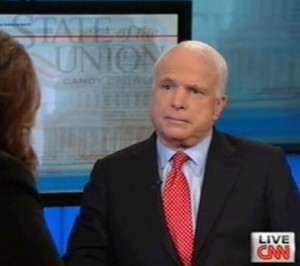 On CNN's State of the Union today, Candy Crowley asked Senator John McCain if the Republican party should be worried about courting Hispanic voters in places like his home state of Arizona heading into next year's presidential election, particularly given the anti-immigration sentiments of many of the candidates. McCain explained the policy of the United States should be "humane" when it comes to dealing with such matters, a word that got Newt Gingrich in hot water with conservatives when he used it about immigration several weeks ago.
McCain suggested that the Latino vote might not necessarily go for Obama because of voter frustration and a whole list of other factors, but did acknowledge it has the potential to go the other way. However, the former presidential candidate was quick to suggest that many American Hispanics do support closing and securing the U.S.-Mexico border, citing drug trafficking as one of the biggest problems in the region.
RELATED: Eric Bolling And Geraldo's Hallway Chat Spills Over Into Heated Immigration Exchange
Crowley pressed McCain on whether Obama could win Arizona, and McCain conceded his former rival has a shot in not just his state, but in other states along the Southern border.
"I think it can be up for grabs. I think that's true of New Mexico, Colorado, Texas even, although maybe not this time, but the demographics are clear… the Hispanic vote will play a major part in national elections."
Watch the video below, courtesy of CNN:
Have a tip we should know? tips@mediaite.com
Josh Feldman - Senior Editor