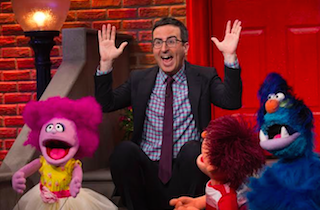 The latest complex, difficult issue to get the Last Week Tonight with John Oliver treatment is America's prison-industrial complex. And since Sesame Street has started employing its Muppets to talk to kids about what it's like to have a parent in prison, John Oliver decided to round up some puppets of his own to have a helpful discussion about how things got so bad.
"We have over two million behind bars right now," Oliver said at the beginning of a nearly 18-minute segment. "We have more prisoners at the moment than China. Than China. We don't have more anything than China other than, of course, debt to China."
More than half of those prisoners have been incarcerated on drug charges, Oliver reported, and since America's drug laws are "a little draconian, and a lot racist," that means prisons are disproportionately full of African-Americans and Hispanics.
-RELATED: WATCH: Mediaite's 'Rule of Law: How the Criminal Justice System Impacts Well-Being'
"It reminds me of a joke. Black people who commit drug offenses, they go to jail like this," Oliver said, putting his wrists together as if they were in handcuffs. "Whereas white people… don't go to jail at all."
After detours through America's strange ability to laugh off the epidemic of rape in prison with "don't drop the soap" jokes and the horrifying story of a woman who had a C-section delivery in prison with the creative use of sugar packets, Oliver turned to his new puppet friends.
The whole thing ended with an uplifting song that also contained an important message: "It's a fact that needs to be spoken, America's prisons are broken!"
Watch video below, via HBO:
[Photo via HBO]
— —
>> Follow Matt Wilstein (@TheMattWilstein) on Twitter
Have a tip we should know? tips@mediaite.com