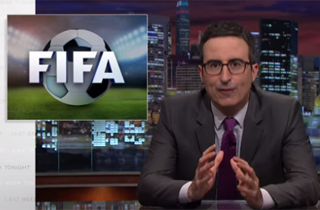 Last year, John Oliver introduced Americans to the gleefully corrupt world of the Fédération Internationale de Football Association, a.k.a. FIFA, and how they really don't care about anything other than making boatloads of money. Last week, he was vindicated when the U.S. Department of Justice, a.k.a. the people who care least about soccer, issued a 164-page indictment against the organization and arrested a slew of its top executives. "That's like finding out that Ke$ha arrested a group of bankers involved in commodities fraud," he joked.
After explaining the players in the fraud (including FIFA snitch Chuck Blazer, a man who looks like "Bad Santa", Mr. Jack "Not the Onion" Warner, and Evil FIFA President Sepp Blatter), Oliver listed the extent of FIFA's corruption and cruelty. Blatter, for instance, is the kind of guy who would make women play World Cup soccer on Astroturf, which bangs up people's legs something awful: "The last time an athlete's legs were beaten up that badly in advance of an major competition was when Tonya Harding was unwilling to settle for silver." But Blatter may be best known for inexplicably granting the 2022 World Cup to Qatar, which has seen nearly 1,200 people die during the construction of its stadium.
Oliver was hardly surprised that Blatter subsequently won re-election, one day after the massive wave of arrests, due to the weird profit-sharing system of FIFA, in which every country gets the same amount of money regardless of their population. With that, he cheered on America and begged them to arrest Blatter, because that would do more for the American image abroad than anything else. "Imagine if the Dutch suddenly found a reason to extradite Donald Trump," he explained.
"The problem is all the arrests in the world are going to change nothing if Blatter's still there, because to truly kill a snake you must cut off its head—or in this case, its asshole," the HBO host said.
But in the event that even the DOJ couldn't get rid of Blatter, Oliver turned to the most powerful players in the game: FIFA's corporate sponsors. "I will even drink a Bud Light Lime," he declared.
Watch below via HBO:
[Image via HBO/screenshot]
— —
>> Follow Tina Nguyen (@Tina_Nguyen) on Twitter
Have a tip we should know? tips@mediaite.com