John Oliver Blasts Gov't For Snowden Confusion: Couldn't Find Human Centipede If 'Mouth Was Sewn To Its Ass'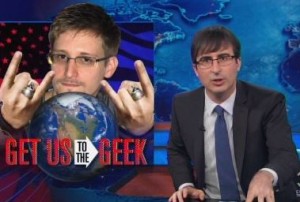 John Oliver took on the continuing saga of Where In The World Is Edward Snowden? tonight mocking both the media for its overzealous speculation on where Snowden is and the U.S. government for not being able to find out where the hell he is. Oliver quickly recapped how the "contractor/hero/villain/revealer of all our nation's secrets" fled Hong Kong and is now somewhere in the world and can only be brought to justice by Ann Tickwittee or Ivan Idea.
Oliver found it amazing that Hong Kong just stopped returning the U.S.'s phone calls, basically making America a "sad ex-boyfriend." He showed clip after clip of media outlets at airports and in airplanes waiting for Snowden, remarking that "somehow, Edward Snowden's layover in Moscow ended with a dozen journalists on a Russian airliner's 12-hour flight to Cuba that Edward Snowden wasn't even on!" Or, Oliver suggested, maybe they just wanted "12 exclusive photos of an empty chair."
Oliver tore apart the media for attempting to fill airtime with guesses over which country he's in. He shouted, "Stop guessing!" and said that news is not like a game show. But Oliver saved his harshest zingers for the government, following a statement by Secretary of State John Kerry that they have no idea where Snowden is.
"This is either incredibly embarrassing for the U.S. government or the most brilliant thing they could possibly do. Because for a while there, Edward Snowden had us believing that the U.S. government was all-seeing, all-knowing, and all-powerful. But after this weekend, they've got me even more convinced that they couldn't find the front of a human centipede if their mouth was sewn to its ass."
Watch the video below, courtesy of Comedy Central:
—–
Follow Josh Feldman on Twitter: @feldmaniac
Have a tip we should know? tips@mediaite.com
Josh Feldman - Senior Editor