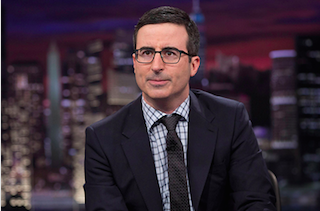 With 644 days until the 2016 presidential election, it seems that every other segment on The Daily Show with John Stewart and Real Time with Bill Maher is about the potential candidates who have yet to announce they are actually running. But as John Oliver made clear to reporters ahead of his Last Week Tonight season two debut this Sunday, he "couldn't care less" about that story.
Oliver delivered this rant on the premature 2016 hype that has engulfed not only the media also the rest of the late night TV landscape during an HBO event Tuesday morning:
"I'll think about that in 2016 — I couldn't care less right now. I truly believe that the 2016 election is what the news likes to think about when it doesn't want to think about anything. There's no merit in it. Unless you're in the same year as the thing you're describing, it's a complete waste of breath. It's like a subject screensaver for the news. You know that if they're saying, oh look, Jeb Bush is running, you know that's the equivalent of just, nothing is happening in the newsroom, or we were tired! … I have no interest whatsoever in the 2016 election, at the start of 2015. There's a time and a place for that, and it's in 2016."
The Last Week Tonight host, whose first season managed to wrong nuanced comedy out of under-covered news stories like net neutrality and civil forfeiture laws, said the one story he wished he had been around to cover over the last few months was the attack on Charlie Hebdo.
Oliver called the attack "really offensive for me as a comedian, especially a comedian who gets to do whatever he wants with impunity" and predicted his show may still do something down the road "about the overall state of satire in the world." He added, "I don't really feel like we've missed anything, because we can come back to it."
[Photo via screengrab]
— —
>> Follow Matt Wilstein (@TheMattWilstein) on Twitter
Have a tip we should know? tips@mediaite.com