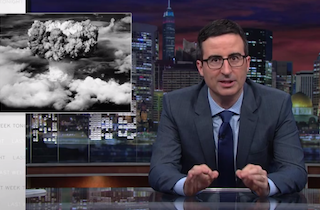 The latest on the increasingly long list of difficult topics out of which John Oliver has somehow managed to wring comedy is the security — or lack thereof — of America's massive nuclear arsenal. The centerpiece of this week's Last Week Tonight was a solid 15 minutes of disturbing details on the many near-catastrophes over the last several decades in which this country nearly wiped itself off the map by accident.
Oliver began by demonstrating that Americans of the 1950s lived in constant fear of a nuclear attack from Russia, before arguing that today's Americans should be just as fearful of something horrible happening without interference from another country. He noted that the U.S. currently has 4,804 nuclear warheads to secure and keep track of: "More than enough, not just to destroy Earth, but to provide 4th of July fireworks for Martians."
From there, Oliver went down the list of all the problems that have plagued the system set up to protect the weapons we do have, from the use of floppy disks to transmit launch codes, to doors that need to be propped open with crowbars, to the general tasked with overseeing the the weapons who was fired for getting too drunk for the Russians. Or, as Oliver summed it up:
"Within the last 12 months we were in a situation where in the event of us launching a nuclear strike, the president's command would theoretically have gone through a man gambling with fake poker chips, who would've then tried to call a drunk guy wrestling with a Russian George Harrison, who would've then needed to send someone with a bag full of burritos to wake up an officer and tell him to go grab an LP-sized floppy disk and begin the solemn process of ending the world as we know it."
Oliver then recounted some of America's closest calls, including the so-called "Goldsboro incident" of 1961, in which "you dropped an armed nuclear bomb on your own country and it is frankly amazing that you don't talk about that more often." As recently as 2007, six nuclear-tipped cruise missiles were left on tarmac unguarded for 36 hours.
But all of this being said, America is not making any major efforts to reduce the country's nuclear arsenal, which Oliver compared to a T-Rex's arms: "They're essentially useless and you are plenty scary enough without them."
"When you have 4,800 of something you don't need, you are a fucking hoarder at that point!" he exclaimed.
Watch video below, via HBO:
[Photo via screengrab]
— —
>> Follow Matt Wilstein (@TheMattWilstein) on Twitter
Have a tip we should know? tips@mediaite.com