Oliver Dismantles Trump's Candidacy and His 'Tiny, Cocktail Sausage Fingers'
On HBO's Last Week Tonight on Sunday, host John Oliver devoted his main segment to the biggest force in American politics today: Donald Trump, a revelation that brought equal parts groans and fascination from the studio audience. Oliver after all is known for his blistering takedowns on his HBO program, and focusing his attention on the Donald seems long overdue.
"Our main story tonight — and I can not believe I'm saying this — is Donald Trump, and I say that knowing that every time his name gets said out loud, he has a shattering orgasm," said Oliver.
The comedian examined the most frequent talking points that voters give when they admit that they support a Trump candidacy: he self-funds his campaign, he tells it like it is, he means what he says, etc. Then, in only a way that John Oliver can, the host proceeded to tear apart every rationale for supporting the man who "gives the appearance of wealth, but is actually a cheap tool."
The large majority of Sunday night's half-hour broadcast was devoted to taking down the GOP nominee in hilarious fashion. The production team and writers at Last Week Tonight, predictably, researched elements of the Trump phenomenon that date back decades — such as his dizzying array of failed businesses like Trump Steaks, Trump University, www.goTrump.com, and various Trump-inspired magazines — even uncovering strange correspondences that pertain to his reportedly small hands. Despite his "tough guy" persona, Oliver revealed just how sensitive the real estate mogul seems to be about his "cocktail sausage fingers".
But perhaps the best bit in the segment? The reveal of Trump's authentic family last night, which would appear not to be "Trump" at all, but in fact is the far less soothing "Drumpf". Oliver and Co. purchased www.donaldjdrumpf.com, and in an effort to "Make Donald Drumpf Again", is now selling these exclusive parody hats from the Last Week Tonight store (at the manufacturing cost so as not to make a profit, "a fact which will probably irritate Mr. Drumpf more than anything else I've said tonight"):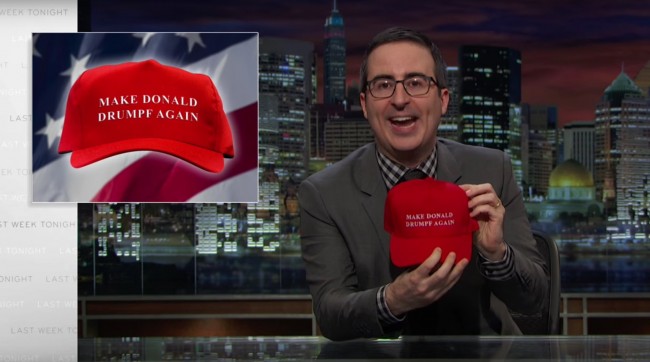 Watch the awesome video above from HBO and the Last Week Tonight YouTube channel, which ends with Oliver saying, "I await your lawsuit in the morning."
[image via screengrab]
—
J.D. Durkin is the Senior Editor of Mediaite. You can follow him on Twitter @jiveDurkey.
Have a tip we should know? tips@mediaite.com