John Oliver Flies The Rainbow Flag Of Freedom And Slams Texas GOP 'Determined To Abort' Epic Filibuster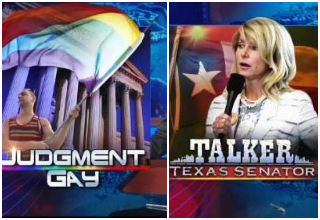 John Oliver opened Wednesday night's Daily Show celebrating the Supreme Court rulings on gay marriage and the amazing 13-hour filibuster by Texas state senator Wendy Davis. He waved a rainbow flag while singing from Les Mis, and cried, "We did it!… Well, we watched!" in reaction to the Supreme Court striking down DOMA and Proposition 8, while also taking on the Texas GOP's "illegal post-mortem vote" after trying to get Davis to stop filibustering.
Oliver pointed to all the benefits gay partners have, declaring, "For too long, only straight couples have been able to enjoy paying their taxes and learning that their spouse has been killed." He checked in with correspondents Samantha Bee, who mockingly praised Antonin Scalia for his "firmly held belief" in the Supreme Court not striking down established law except for, you know, that whole Voting Rights, thing, and Al Madrigal, who, as a result of listening to religious conservatives, found himself forced into a gay marriage with Jason Jones.
Oliver then turned to the Texas filibuster, and how the Republicans in the state legislature were "determined to abort [Davis'] filibuster before it reached the full 13-hour term." He also called out the state GOP for "one of the shadiest moves of all time" by passing the bill after midnight and then trying to pretend they didn't. However, this, as Oliver argued, is perfectly consistent with their philosophy.
"They simply believe that if late one night when you're swept away by your emotions [and] you make a stupid mistake, you should always have a chance to fix it later and not have to live with the consequences."
Watch the video below, courtesy of Comedy Central:
—–
Follow Josh Feldman on Twitter: @feldmaniac
Have a tip we should know? tips@mediaite.com
Josh Feldman - Senior Editor