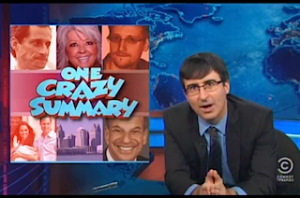 John Oliver celebrated his final appearance as interim summer host of The Daily Show by reflecting on some of his favorite moments from the last few months, catching the audience up on new developments in some key stories he covered this summer.
After tearing through coverage of San Diego Mayor Bob Filner and Russia's anti-gay laws, Oliver issued a personal thank you to one person who has "gone above and beyond to make my job so much easier this summer than it could have been.": Anthony Weiner. "There are so many things I'll miss about this summer," Oliver said. "But I'll miss you most of all, Carlos Danger."
After a break, Oliver began thanking his indispensable correspondents, in what quickly turned into a hilarious reprise of the best segment from his first week as host back in June. Ostensibly talking about Detroit, Samantha Bee opined about "a once proud American institution, brought to its knees by gross mismanagement and incompetent leadership," before she revealed she was actually talking about The Daily Show. "It took decades to bring Detroit to its knees, but you destroyed The Daily Show in like three months."
He then went to Jessica Williams, who was reporting live from outside Paula Deen's house because, "I would much rather work for an old lady who admitted to throwing the 'n-word' around than spend six more minutes working for you."
Next up was a surprise appearance from former Daily Show correspondent Wyatt Cenac in Moscow, who expressed just how thankful he was that he got out before the Oliver era. And then another old correspondent Rob Riggle showed up from London to act as the sole supporter for Oliver's hosting gig, even if he hasn't watched it all summer.
As hilariously insulting as it was, Oliver definitely got the Daily Show send-off he deserved.
Watch both segments below, via Comedy Central:
Part 1:
Part 2:
Part 3:
Part 4:
[photo via screengrab]
—
>> Follow Matt Wilstein (@TheMattWilstein) on Twitter
Have a tip we should know? tips@mediaite.com