John Oliver Rips CNN's 'Royal' Commentator: 'Burn The Princess, For She Has Produced A Baby Of The Weaker Sex!'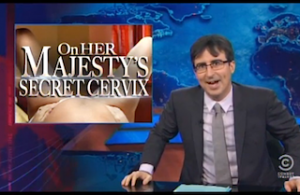 The royal baby is here, and who better to make jokes about the future king than Britain's own John Oliver? The Daily Show's summer host promised far more coverage on the media's incessant coverage of the royal birth tomorrow night, but did open the show tonight with a few gems of his own.
Oliver responded with an appropriate measure of glee to the big news, jumping up and down and proclaiming, "Oh my god, oh my god, oh my god, oh my god, oh my god, yes, yes, yes! A son, a son, you mean a king! All kneel to the one true king. Kneel for god's sake!" After calming himself down, Oliver reported that the birth "came after a long day of awaiting word from St. Mary's hospital, as the royal lad, seemingly prolonging labor, perhaps sensing that this was the only kind of labor that he would ever be involved in."
For the time being, the host focused in on one gloriously awkward reaction from CNN royal commentator Victoria Arbiter, who earlier in the day praised Kate Middleton for "brilliantly" birthing a son on her first try. "You are aware that she is married to Prince William and not Khal Drogo, aren't you?" Oliver asked, alluding to Game of Thrones' powerful Dothraki warlord.
"What would your response have been if it had been a girl?" he asked. "Damnation upon your cursed womb, Katherine. Burn the princess, for she has produced a baby of the weaker sex. Burn them both! Burn them!" We will have to wait until tomorrow night for more.
Watch video below, via Comedy Central:
—
>> Follow Matt Wilstein (@TheMattWilstein) on Twitter
Have a tip we should know? tips@mediaite.com