John Oliver Scorches Spitzer-Weiner New York Redemption Tour: 'Surprising Everyone With Their Solid Polling'
Oliver Scorches Spitzer-Weiner New York Redemption Tour: 'Surprising Everyone With Their Solid Polling'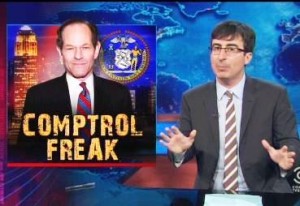 Daily Show guest host John Oliver had some fun tonight going after Eliot Spitzer and Anthony Weiner for their reentry into New York politics after… well, they know what they did. And Oliver had some choice words for "Prostitute Johnson and Dick Pic McGee," including the sad fact that Spitzer is getting challenged in the comptroller race by the madam who supplied him with hookers. Welcome to New York!
Oliver reminded viewers of the "career-killing incident" that nearly embarrassed Spitzer into exile: that time he co-hosted a show on CNN. Oh, and there was that other thing with the prostitutes. Oliver mocked Jay Leno asking Spitzer about his blunder, saying that it's not like Spitzer tripped and fell "dong-first into a prostitute."
But once Spitzer was exposed, Oliver added, "he fell on his sword… eight times into prostitutes."
Oliver then turned to Weiner, the "human being attached to that penis we all saw pictures of." The man who "literally cock-blocked his own career" is running for New York City mayor, but in his defense, he doesn't have the shame of banning large sodas on his resumé to run against.
And, very surprisingly, both men are frontrunners in their respective races, marking their second time "surprising everyone with their solid polling." Correspondent Samantha Bee then came on to explain how this now gives frat boys political heroes to look up to, because now that Spitzer and Weiner are getting their redemption, it's clear that America is now a country where you are judged by "the colorfulness of your character, not by the content of your camera phone."
Watch the video below, via Comedy Central:
—–
Follow Josh Feldman on Twitter: @feldmaniac
Have a tip we should know? [email protected]
Josh Feldman - Senior Editor