John Oliver Shreds Senate Over Filibuster Reform: Listen To Harry Reid Speak And You'll Never Orgasm Again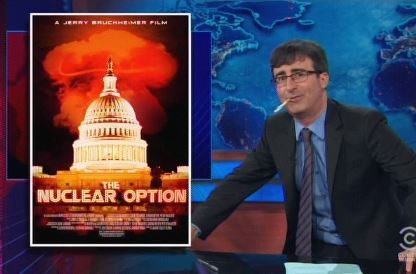 John Oliver took on the Senate's latest partisan, shallow fight over filibuster reform and the catfight between Senate leaders Harry Reid and Mitch McConnell. Oliver noted the remarkable number of filibusters under President Obama and slammed the childishness of the whole thing, especially the "yay for us!" team spirit at avoiding something that was only created by said childishness in the first place.
Oliver reminded viewers that all someone needs to do in order to filibuster is "say 'I'm going to filibuster,'" but now Democrats are considering the "nuclear option" to stop Republicans from filibustering Obama administration appointees…
…except for the fact that the person leading the charge is Harry Reid. And Oliver showed exactly why Reid might not be the ideal leader of the pack, namely a strange baseball analogy Reid went on at length about on the Senate floor. Oliver noted how people used to think of baseball to delay an orgasm, but now all they have to do is "think about Harry Reid talking about baseball" and they will literally never orgasm again.
However, the nuclear option managed to be averted, thanks to a bipartisan group of senators striking a deal. Or as Oliver put it…
"So a routine bit of horse-trading. And all it took to get there was weeks of threats and hyperbolic rhetoric about ending the Senate. I presume you people are all ashamed of yourselves."
Not so, as most senators are touting the amazing feat they managed to pull off. Oliver mockingly echoed, "Yes, we accomplished next to nothing, but we did it together!"
Oliver then went to correspondent Jason Jones, who went from bemoaning how the Senate wishes it could operate with the normal level of gridlock to explaining how Mitch McConnell would be able to filibuster for hours on end with the help of an adult diaper.
Watch the video below, via Comedy Central:
—–
Follow Josh Feldman on Twitter: @feldmaniac
Have a tip we should know? tips@mediaite.com
Josh Feldman - Senior Editor