John Oliver Slams GOP For Backing NSA, Not Gun Control: 2nd Amendment Wins! Only One 'With A F*cking Gun'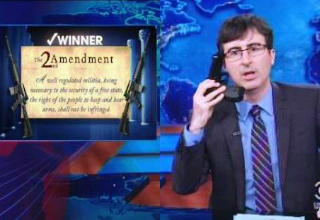 John Oliver continued from where he left off on last night's Daily Show slamming NSA surveillance. He had some choice words for defenders like John McCain and Lindsey Graham, taking the Republican party to task for supporting phone call surveillance in the name of protecting Americans but not backing gun control for the same reason. Oliver deadpanned, "Guns are one thing, but phone calls are too dangerous to go unchecked!"
Oliver recapped how the NSA is tracking everything, "even our personalized birthday cakes," and mocked Bill O'Reilly for saying that the government could exploit a Republican senator calling "Trixie." Oliver asked, "Have you built a time machine so you can go to brothels in the 1930s?"
Oliver broke down the two sides of the debate to "Team Everybody Calm Down" and "Team Everyone Freak Out." Leading the first team is John McCain, which led Oliver to remark, "Nobody understands sophisticated technology better than cantankerous old men." He also took McCain to task for saying we wouldn't be having this debate if it was the day after 9/11, explaining that the standard can't be "what decision would we make on our most vulnerable and panicked day."
Meanwhile, "Team Everyone Freak Out" is being led by Rand Paul, though Oliver doubted he's the best representative to bring this to the Supreme Court, considering he doesn't care much for their opinion anyway.
Oliver then targeted Lindsey Graham, and after attempting a fake Southern drawl (a bit hard for an Englishman), called him out for trusting the government to collect whatever information they want on Americans… just not background checks on who buys guns. Oliver cried, "Guns are one thing, but phone calls are too dangerous to go unchecked! Some maniac could be calling about going on a shooting spree!"
He concluded by declaring that the Second Amendment has won the Bill of Rights, defeating all the other amendments, though it was largely because "it's the only amendment with a fucking gun.
Watch the video below, courtesy of Comedy Central:
—–
Follow Josh Feldman on Twitter: @feldmaniac
Have a tip we should know? tips@mediaite.com
Josh Feldman - Senior Editor