John Oliver Slams Obama's Foreign Trips: We've Made Him Sad, So He's Leaving The Country To Find Love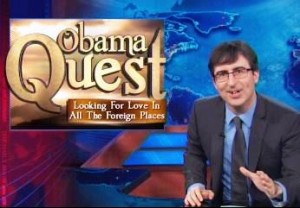 John Oliver tonight could only surmise that President Obama is taking not one, but two summer vacations abroad because we've made him very sad over our plummeting distrust in him, and he needs to go overseas to find the love he so desperately craves. Unfortunately, he still hasn't quite found it, between the low attendance to his speech in Berlin and his awkwardly chilly meeting with Vladimir Putin.
Obama spoke today in Germany (described by Oliver as "the happiest place on earth), but his speech this time did not garner the huge audience his 2008 Berlin speech did. Oliver remarked, "Losing 95% of your audience in just 5 years, that basically makes Obama the NBC of presidents."
As it turns out, Germans are not happy with the recent NSA revelations, because as Oliver noted, Obama's explanation that the surveillance is only spying on foreigners doesn't really play well with foreigners.
Oliver also got around to the awkward, tense moment between Obama and Putin. Oliver surmised that the "chill in that room" must have had to do with the recent report that Putin actually stole a Super Bowl ring in a story that made the Russian leader out to be "the world's laziest jewel thief."
Oliver realized that the only way Obama can regain his mojo is to find The One Ring and bring it back to America, warning the president, "Whatever you do, do not let Joe Biden put that ring on his finger!"
Watch the video below, courtesy of Comedy Central:
—–
Follow Josh Feldman on Twitter: @feldmaniac
Have a tip we should know? tips@mediaite.com
Josh Feldman - Senior Editor