John Oliver Starts Mocking Palin's Return To Fox, Then Has A Revelation: 'We Can Just Fu*king Ignore Her!'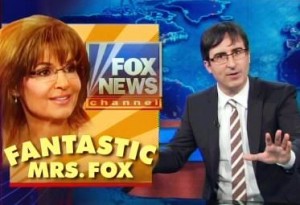 John Oliver began his second week guest-hosting The Daily Show welcoming Sarah Palin back to Fox News. Okay, maybe "welcoming" is a strong word. In fact, Oliver realized that rather than spending the whole show piling on every single folksy thing Palin says, he might as well just ignore her instead.
Oliver first noted that Palin only left Fox News five months ago, and now she's back, so "she has now effectively quit quitting!" He played clip after clip of Palin saying what she's been up to, and he was ready to mock every single word that came out of her mouth.
But then a thought occurred. He said, "Fuck it, this is exactly what she wants. just because i walked into a turd supermarket doesn't mean I have to buy anything." This led Oliver to debut an all-new segment: Wait A Second, We Can Just Ignore Her! He said that he could spend the whole show poking fun at her "self-contradictory nonsense." OR…
"We can just ignore her! We can respond to her obvious trolling with a series of insulting jokes, and maybe together enjoy a brief moment of catharsis, or we can just fucking ignore her!"
He invited the audience to join in his grand experiment, saying "It will be like we give our brains an enema together."
Watch the video below, courtesy of Comedy Central:
—–
Follow Josh Feldman on Twitter: @feldmaniac
Have a tip we should know? tips@mediaite.com
Josh Feldman - Senior Editor