John Oliver Takes Weiner To The Woodshed: Where Does He Get The Balls To Be Outraged At Us?! Oh, Wait…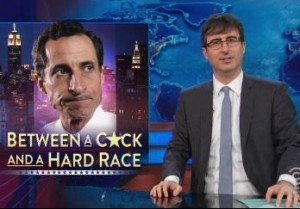 John Oliver tonight tore into the growing arrogance of Carlos Danger (a.k.a. Anthony Weiner) and his insistence that not only should he not drop out of the New York mayor's race because of this scandal, but he could actually be a good mayor because of it. Oliver said Weiner's sinking poll numbers are the least of his worries, and proceeded to shred Weiner for actually having the balls to get angry at the press for continuing to hound him over the fact that he's kind of a sleazebag.
Weiner, or as Oliver called him, "the everlasting gobstopper of embarrassing revelations," apparently paid thousands of dollars to investigate his own scandal two years ago. Oliver asked, "Who did he hire? The same guy that O.J. paid to go look for the real murderer?!"
Oliver rounded up all the people wanting Weiner to drop out, including Bob Schieffer calling him a "new-age flasher." Oliver found it amusing that "when an old man says it, it's hard to tell whether he's mad about the sex stuff or about the technology."
Oliver was amazed at Weiner's hubris at getting exasperated with people continuing to ask him about this scandal, mockingly asking, "Why are you guys so obsessed with my penis?!" He explained, "It's not just, Mr. Carlos, that we saw your dick, it's that you lied about it over and over again! For years, it turns out!"
But what really shocked Oliver was Weiner's actual insistence that he could be a good mayor not in spite of this scandal, but because of it due to the "independence" he'll have.
"Oh, it's going to give you a level of independence, all right. Because if New Yorkers do the right thing, it's going to make you independent from the fucking office of mayor."
Watch the video below, via Comedy Central:
—–
Follow Josh Feldman on Twitter: @feldmaniac
Have a tip we should know? tips@mediaite.com
Josh Feldman - Senior Editor