John Oliver Tears Apart GOP's 2016 Fever, 'Clown Car' Of Candidates, And 'Sharknado Of Voter Suppression'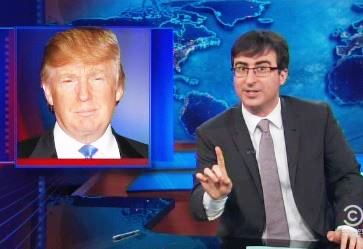 John Oliver continued to lament having to talk about the 2016 election, which is over three years away, but the media is already on the case, wildly speculating on who will run, when, and starting in which states. Oliver mocked the potential "clown car" of candidates, gave viewers a brief 2012 flashback, and proceeded to tear apart the "Sharknado of voter suppression" Republicans are engaging in after the Supreme Court struck down a provision of the Voting Rights Act.
Oliver mocked Ted Cruz's reassurances that the fact he was born in Canada will not be a problem for GOP voters *cough*birthers*cough*, and practically begged Donald Trump to get in the race. Oliver reassured voters that the "clown car" is never full and more outlandish candidates like, let's say, Herman Cain, could jump into the race.
Oliver then turned to the voting laws being put into effect in Republican states, from Florida, "where your grandparents and your rights go to die," to North Carolina, where voting laws are evidently so severe, all voting booths are now "on buoys that are only accessible by yacht."
Oliver slammed each of the justifications provided for North Carolina's strict voting laws, and after recapping exactly how ridiculous they are, he could only conclude, "Your move, South Carolina."
Watch the video below, via Comedy Central:
Part 1:
Part 2:
—–
Follow Josh Feldman on Twitter: @feldmaniac
Have a tip we should know? tips@mediaite.com
Josh Feldman - Senior Editor