John Oliver Tears Apart Royal Baby Media Coverage: A Royal 'F*ck You' To Every Other Baby In The World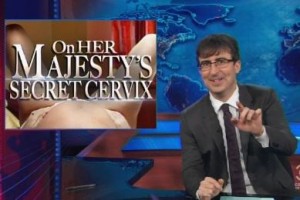 John Oliver opened tonight's Daily Show covering the birth of the single greatest baby in the history of babies. Oliver took the media to task for its over-the-top, near-non-stop coverage of the royal baby, the lead-up to the royal baby's birth, all the filler before the baby was actually born, the speculation over the baby's name… basically, everything about that damn baby.
Oliver welcomed the news of the newborn by saying, "Finally we have a member of the royal family that actually has an excuse for being a toothless, petulant, useless human being." He declared all the media coverage to this one child as "a royal fuck you" to every single other baby born that day.
After a few jokes about the queen's sexuality (not kidding about this), Oliver took delight in a horse celebrating with a bunch of drunk Englishmen at a pub, and mocked the idea that Her Royal Majesty will be "delighted" at the news, seeing as how her default face is "a saggy mixture of boredom & contempt"
He slammed CNN in particular for going so far as to interview a random British lady about to give birth and for airing three solid minutes of nothing but cannon fire. Oliver concluded that in response to the birth, the media has obviously gone on maternity leave.
Watch the video below, via Comedy Central:
Part 1:
Part 2:
Part 3:
—–
Follow Josh Feldman on Twitter: @feldmaniac
Have a tip we should know? [email protected]
Josh Feldman - Senior Editor