John Oliver Tears Apart Scalia Over Gay Marriage: 'Justice Whose Name Most Resembles A GI Joe Villain'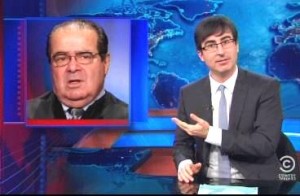 John Oliver used tonight's Daily Show to round up the most outlandish negative reactions to the Supreme Court decisions on gay marriage. He noted how Anthony Kennedy was the deciding vote, and then got around to mocking Antonin Scalia, "the justice whose name most resembles a GI Joe villain," for his bizarre, ranting dissent from the majority opinion.
Oliver mocked Scalia's usage of the phrase "legalistic argle-bargle," which could mean that either Scalia is angry, "choking on a pen top," or just delivered his ruling while scuba diving.
Oliver then turned to Republican objections to the Supreme Court's ruling, with some of them denouncing this "effective oligarchy of five." Oliver explained that the Supreme Court is there to rectify the nation's bad decisions, saying to the drunk voters, "Give us your keys, you're really going to regret segregating schools tomorrow!"
And on the argument that gay marriage is not natural, Oliver had a particularly strong comeback.
"If your brain can't process God's creatures enjoying different kinds of sex, you don't want to bring nature into this, because nature is where dogs hump each other in the face!"
Between that and Rand Paul suggesting this ruling could lead to bestiality, Oliver asked why the "definitely not perverted brains" of Republicans always go to this nasty stuff.
Watch the video below, courtesy of Comedy Central:
—–
Follow Josh Feldman on Twitter: @feldmaniac
Have a tip we should know? tips@mediaite.com
Josh Feldman - Senior Editor