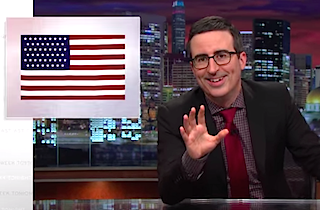 John Oliver probably just lost a lot of fans in the Sunshine State. For his main Last Week Tonight story on Sunday, the host examined the strange situation in Washington, D.C., whose residents still has no true representation in Congress, despite the fact that Congress still makes all the budget decisions for the nation's capital. Oliver's solution is to just kick out Florida and make D.C. to new 50th state.
"The people of D.C. clearly deserve a greater voice in their own affairs, and they've actually come tantalizingly close to getting a voting representative in Congress," Oliver said. "In 2009, a bill to give D.C. a vote was introduced in the Senate, and the Senate did the most dickish thing imaginable: passing it, but with a little addition." Namely, adding a rider that would have abolished the city's gun control laws.
And Oliver gave "the award for the most depressingly cynical thing that has ever been said about D.C." to President Barack Obama, "who in 2011 avoided a government shutdown by striking a deal with John Boehner that included prohibiting D.C. from spending its own money on abortions for low-income women, saying, 'John, I will give you D.C. abortion. I am not happy about it.'"
"The only time trading away D.C. abortion would be acceptable is if 'D.C. Abortion' is a rare 1950s comic book and you are getting 'Marvel's The Amazing Mammogram' in return," Oliver asserted. "That's it."
To prove just how easy it would be to give D.C. full statehood, Oliver led a group of children in rewritten version of the classic 50 states song. Here are the new lyrics:
Alabama and Alaska, Arizona, Arkansas/
California, Colorado, Connecticut and more.
There are 50 states in total and we'll sing their names with glee/
But there's one place that gets shafted and it's Washington, D.C.

All the rest of us can choose a path that we think is best/
But any choice that D.C. makes is easily suppressed/
'Cause some asshole with a rider who might live in Tennessee/
can destroy a needle program for preventing HIV.

Let them have gun laws! Let them have weed!
Let them decide the things that they need!
And if you're totally convinced that there should be just 50 states/
Well then let's all kick out Florida 'cause no one thinks they're great.
Oh, yes, let's all kick out Florida because no one thinks they're great.
Watch video below, via HBO:
[Photo via screengrab]
— —
>> Follow Matt Wilstein (@TheMattWilstein) on Twitter
Have a tip we should know? [email protected]