John Oliver Warns Palin 'Will Do to Sports What She Did to Politics' with New Reality Show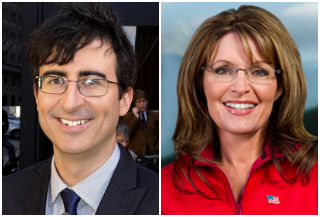 John Oliver went to the Television Critics Association winter media tour this week to talk about his new show on HBO. But he ended up spending a good amount of time talking about Sarah Palin. According to reports from Deadline, the LA Times and others in attendance, Oliver got sidetracked when he found out Palin would be presenting at the same conference the following morning.
When one journalist asked Oliver if he planning to stick around long enough to have breakfast with Palin, here's how he responded:
"What? You are kidding! Now I'm checking in! Good for her. So she has a new show on the sports channel? She's going to do to sports what she did to politics. She wouldn't set foot in front of you liberal monsters. There's a significant voice in my head saying check in, go to breakfast. Lots of moose-based favorites. Sarah Palin on a breakfast bar. My life could just be over in that moment."
Oliver was referring to Palin's latest reality show for the Sportsman Channel called Amazing America, set to premiere in April.
Indeed, Palin did attend TCA Friday morning to preview the new show. "You know how much I love critics and the media," Palin told the press in attendance. "So a room full of television critics, I can't beat this combination for pleasure."
She described how she wants to use her new show to reach women, who she believes are underrepresented on sports television. "I think this world would be better off having more young women holding a fish in a picture than holding their camera in front of a bathroom mirror, talking a selfie," she said.
[photos via Wikimedia Commons, Sportsman Channel]
— —
>> Follow Matt Wilstein (@TheMattWilstein) on Twitter
Have a tip we should know? tips@mediaite.com