John Oliver's Epic Takedown Of Weinergate Pt. 2: Give Up Politics And You'll Be Free To Be 'Internet Sex Freak'!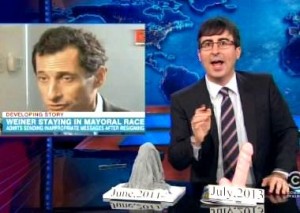 Two years ago, when The Daily Show did a segment on Anthony Weiner's first round of sexting, Jon Stewart mock-resigned in disgrace and John Oliver "took over" the show and pledged to "mock him until his shame is visible." Which made Wednesday night's Daily Show pretty apt, as Oliver was on hand in Stewart's actual absence to deliver a blistering takedown of Weinergate Pt. II: The Re-Weinering.
Oliver described Weiner's latest hurdle as "a bit of a cock-up in his campaign," finding it really troubling that Weiner decided to engage in more sleazy behavior after getting exposed for his previous bout of sleazy behavior. He bewilderedly asked, "He did it again? Why did he even need to do that? Who did he think had possibly not seen his photo from last time?!"
But "Bolivian action hero slash porn star" Carlos Danger was pretty defiant in attempting to explain away the new sexts, leading Oliver to conclude he's clearly learned nothing and is handling it this time somehow "with even less class." Oliver nailed the point that it's less about Weiner's sleaziness this time around and more about his continuing the sleazy behavior after he apologized and said he would do better.
After playing a few clips of pundits speculating that maybe Weiner has a sex addiction, Oliver only half-agreed, saying he has a very different addiction.
"He's addicted to running for office, and if he could just give that up, he could live a full, productive life as an internet sex freak!"
Watch the videos below, via Comedy Central:
Part 1:
Part 2:
—–
Follow Josh Feldman on Twitter: @feldmaniac
Have a tip we should know? tips@mediaite.com
Josh Feldman - Senior Editor