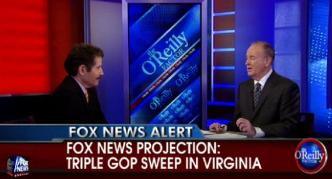 John Stossel is one of the new Fox News/Fox Business Network hires, and, as he told Bill O'Reilly last night, he's already starting to get a much different reaction from the media world and in personal interactions than when he worked for ABC News.
O'Reilly, of course, loved this.
The jumping off point for the discussion was this New York Times story last week, that brought up the potential conflict of interest from Stossel speaking at an Americans for Prosperity forum. The group, writes Brian Stelter, consists of "opponents of a Democratic health care overhaul."
"I make speeches, I make about 25 a year, I've done that for years," said Stossel on The Factor. "And suddenly now that I'm at Fox, critics are leaping to attack me, according to the New York Times."
In fact, Stossel said "when I worked for ABC three months ago I also made three speeches for this group."
O'Reilly wasn't surprised, and he warned Stossel of what he was in for:
Now that you're here, and Glenn Beck found this on very quickly when he came over from CNN…You committed a Cardinal sin of all time – you left a liberal network and you went to a traditional right-leaning network so you're never ever going to be liked again by anyone. Does that make you sad?
It will be interesting to see how these weekly exchanges between Stossel and O'Reilly go. So far, the former ABC anchor has appeared almost timid when faced with the imposing O'Reilly, but that's likely to change as he gets more comfortable in his hosting role. A main point Stossel pressed last night was about bias and having an opinion – "we all do, I just admit mine," he said at one point. This idea will ingratiate him to the O'Reilly model. On the other hand, his insistence about living among the New York City non-'folks' in O'Reilly's mind will drive them apart (also – he wants heroin legalized).
Here's the O'Reilly segment last night:


—–
» Follow Steve Krakauer on Twitter
Have a tip we should know? tips@mediaite.com