John Stossel Poses as Homeless to Get People to Stop 'Enabling' Their 'Drug and Alcohol Habit'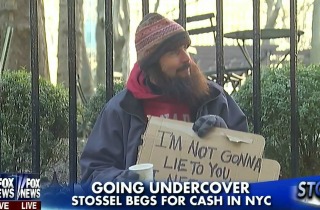 Fox Business Network host John Stossel recently dressed up as a homeless man to prove that people will give money to anyone on the street who appears needy. Sitting down with the hosts of Fox & Friends, he said that both he and many homeless advocacy groups recommend not giving money to people on the street because most are only seeking to fund their drug and alcohol habits.

Stossel revealed that he begged for only an hour and made $90. "$23,000 for a year, tax free," he continued.
RELATED: John Stossel Revisits Video of 'Hundreds' of Union Members Protesting Against Him
"Are you suggesting that the people who are begging for money on the streets, we should not give them money?" Steve Doocy asked.
"Yes," Stossel replied. "It's not I who am suggesting that. The people who work with the homeless say don't give them money."
"You're enabling their alcohol and their drug habit," he added. "Far better, if you really think they're for real, and most are not, to try to help them get to one of the social service agencies."
Stossel went on to identify a number of charities that do not funnel more than a fraction of their donations to the causes they claim to support, including Cancer Fund of America and Children Wish Foundation International.
Watch the clip below via Fox News Channel:
[Editor's note: This Stossel on-the-street footage is originally from 2011. Stossel has re-aired it multiple times over the last years, including in 2012, as we covered it.]
[Photo via screen grab ]
— —
> >Follow Noah Rothman (@NoahCRothman) on Twitter
Have a tip we should know? tips@mediaite.com