John Stossel Thinks America Needs More Guns; Megyn Kelly Likes Shooting Them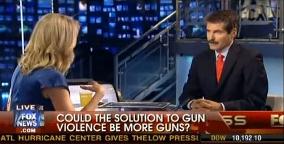 "Are more guns the key to curbing violent crime?"
That's the question Megyn Kelly posed to her viewers today during America Live, introducing an interview with John Stossel and previewing his FBN show tonight. Also – Megyn Kelly likes shooting guns.
Stossel said that while he was a "garden variety liberal working for ABC News" he also didn't really think very highly of guns, but he has really come around on the issue. Now he thinks the country needs more guns. One piece of evidence? "Gun crime, murder, went down after state's passed concealed carry laws," he said.
Kelly had her own stats though, noting that there are "more unintentional shooting deaths," in states with relaxed gun laws. Also, the FNC anchor relayed her own experience.
I had a personal security issue in my life, and for the first time in my life I went to the shooting range and starting taking shooting lessons. And it was a sort of scary experience for me, but also very empowering.
If you'd like to find out more about why we need more guns, Stossel will tell you on FBN tonight at 10pmET.
Also, stay to the end of the clip (below) for Kelly's wrap, in which she jokes about all the illegal things Stossel supports, like "the marijuana and the prostitutes, not that he partakes." Stossel pulls a 'well maybe you do' on her and, in the best out of context quote of the day, Kelly responds, "Yes I'm a big fan of the prostitutes."
Here's the interview:


—–
» Follow Steve Krakauer on Twitter
Have a tip we should know? tips@mediaite.com