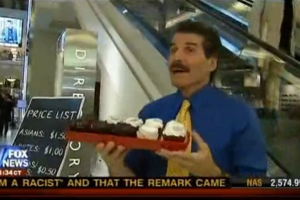 If you were in a Manhattan mall and had a hankering for cupcakes this week, there's a chance you may have stumbled upon cupcake salesman (and Fox Business Network host) John Stossel, who took his libertarian baking skills to the masses in order to make a point about affirmative action. And if you were hungry enough to accept cupcakes from John Stossel, you had better hope you were the "right" race, else you could have been paying up to an extra dollar for your treat.
Stossel got the idea from some conservative students at Bucknell University who organized to have a "racist bake sale" where African-American and Latino students were given the upper hand in price (Asian-American students were given a disadvantage relative to whites, which were considered the status quo. No word yet on how much money white ethnics paid). As the Bucknell bake sale was shut down before it got a chance to really take off, Stossel recreated it to "keep the conversation going." He sold his cupcakes at $1.00 for whites, $1.50 for Asian-Americans, and $0.50 for African-Americans and Latinos. The conversation was mostly Stossel brandishing his baked goods at flabbergasted mall attendees as they tried to understand why anyone would do this anyway.
"Universities don't want to make people mad," Stossel later argued to Megyn Kelly on America Live, "and race terrifies everyone," which is why the Bucknell bake sale was shut down. He compared it to gender-centric bake sales that benefit women similarly to the way blacks and Latinos benefited from his. And while he did not completely disavow all affirmative action plans, citing private institutions as qualified to have the ability to employ "reverse racism," he argued that the disparities affirmative action is trying to erase were "cooked" into the system, but "it's been cooked out."
Kelly did finally get Stossel to express approval of using race as a factor in college admissions, as long as they are one of many factors that play into a student's admission, for the sake of diversity.
Stossel's bake sale via Fox News below:

Have a tip we should know? tips@mediaite.com