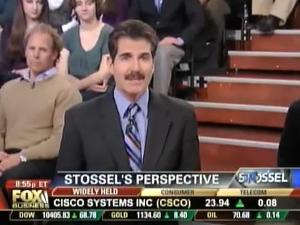 John Stossel's new Fox Business Network premiered last night, and despite the initial reports it would be about "Atlas Shrugged," it instead focused on climate change.
As expected, there wasn't much of a business angle to it. But it did allow Stossel to flex his full libertarian muscles, with a thoughtful show that took a single issue on in depth.
Stossel was called "the man who shatters conventional wisdom," by the announcer as he was introduced, and the host jumped right into the topic. "Are you afraid of the climate crisis?" he asked. "If you listen to politicians like Al Gore, I'd be afraid too. Very afraid. But after years of consumer reporting I've become skeptical of these scare stories."
It was more than just skeptical. The entire show consisted of just two guests – Jerry Taylor of the Cato Institute and Stephen J. Dubner, co-author of "Superfreakonomics" – who downplayed the seriousness of climate change. The studio audience got in their questions, but the point was clear – Stossel believes everyone should just calm down.
At least it was largely apolitical. "That's what politicians do," said Taylor early in the show. "They scare the living heck out of the voters and say 'you need to vote for me because I will save the planet from climate change, from Islamic terrorists, from gay people who want to marry your children' or something like that. All politics is a constant campaign to scare the heck out of people."
Also of note – a green phone, a la Glenn Beck, which was there for Al Gore to call in (spoiler alert: he didn't).
Stossel blogged about his show today (which re-airs tonight at 10pmET – "Help me beat my old show at ABC!" he joked).
I liked the Atlas Shrugged topic too, but with President Obama making news on climate change, we had to air the climate "crisis" show this week. Rest assured, we WILL air an Atlas Shrugged show.
Also featured are some positiv, but mostly negative, comments from viewers.
Here's the final segment of the show, featuring "Stossel's Perspective" – a final thought that summed up the entire show. Key takeaway: "Why is climate change a crisis?":


—–
» Follow Steve Krakauer on Twitter
Have a tip we should know? tips@mediaite.com