Sununu Accuses Soledad O'Brien Of Defending Obama On Libya: 'Groupies' On TV 'Covering His Butt'
Sununu Accuses O'Brien Of Defending Obama On Libya: 'Groupies' On TV 'Covering His Butt'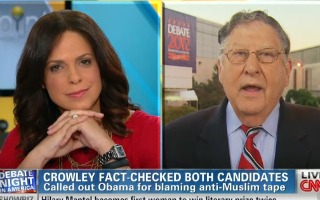 On Wednesday, Romney surrogate John Sununu and Starting Point host Soledad O'Brien to, essentially, the debate the previous night's debate.
Sununu, at first, didn't want to re-watch footage from the debate before discussing it, and later disagreed with O'Brien's remark that the footage depicted all that had happened regarding the matter of Libya in the debate.
"No, it didn't," Sununu protested. "You left out Candy going on television later on and admitting that Mitt Romney was right."
"The President got caught lying last night," he added, "and I think the world should know that."
O'Brien then asked her staff to make their documents available to those who follow the show on Twitter, and followed up by replaying the President's Rose Garden speech the day after the attack. Sununu also took issue with this footage, saying that it left out the beginning of the speech, where the President had made mention of the film Innocence of Muslims, which was originally cited as the spark that ignited the "spontaneous" attack.
"This is ridiculous," he told her, "that you're trying to defend the President, who two weeks later… five days later he sends out his ambassador to the UN to five talk shows to say it's the video."
He later took the Obama administration and its "groupies on television that are trying to cover his butt" to task for trying to cover up lies about terrorism in that region of the world. "If you're going to dwell on this," he said later, "you're out of your mind!"
Watch, courtesy of CNN:
Have a tip we should know? tips@mediaite.com