John Sununu And Bill Richardson Clash Over Obama's 'Bullsh*tter' Comment
John Sununu And Bill Richardson Clash Over Obama's 'Bullsh*tter' Comment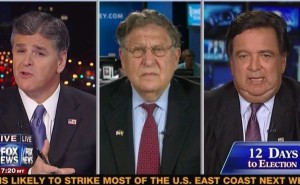 On his show tonight, Sean Hannity highlighted President Obama's "R-rated" attack on Mitt Romney when he called his Republican rival a "bullshitter" in a Rolling Stone interview. He asked how the man who used to run on the idea of optimism and away from fear-based campaigning is now distracting from the real issues creating controversy over things like Big Bird. John Sununu said that Obama's use of profanity showed the president has "no class" and he was trying to "appear… cool" to the magazine's audience. He argued that Obama is not someone who young children could consider their role model.
RELATED: MSNBC Guest: Calling Romney A 'Bulls****ter' Is Obama 'Displaying His Humor' And 'Affection For Kids'
Bill Richardson disputed Hannity's insistence that Obama's lack of civility is beneath the office of the presidency. Hannity and Sununu pushed back, with the latter accusing Obama of trying to create a racial divide in this country. Richardson brought up Colin Powell's endorsement of Obama today and listing all of the reasons Powell said he was backing the president again.
Sununu told Richardson to stop pushing Obama talking points and attacked the president for only going on late night talk shows so he has an unchallenged platform to spew "his venom and his lies." Sununu accused Obama of "lying" on Benghazi and lacking any concrete plans for the economy and national security. Richardson fired back by going after Romney for flip-flopping on every issue, saying Romney has been shifting to the middle on almost every issue.
Hannity asked Richardson if any of the negative attack ads from the Obama campaign personally embarrass him. Richardson said they don't, but acknowledged there is "negativism on both sides" in the final weeks of a presidential campaign. Richardson said he didn't want to cite some of what Romney's team has engaged in because they would be embarrassing for Sununu, but when pressed by Hannity, Richardson just moved on. Hannity told Richardson that he doesn't want to have a conversation about serious issues, just silly distractions.
Watch the video below, courtesy of Fox News:
—–
Follow Josh Feldman on Twitter: @feldmaniac
Have a tip we should know? tips@mediaite.com
Josh Feldman - Senior Editor