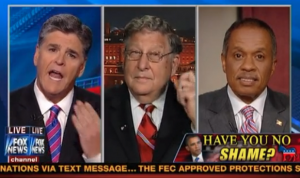 Sean Hannity was joined by Mitt Romney surrogate John Sununu and Juan Williams on Wednesday night, in a panel that pitted the two together, vehemently disagreeing over every topic discussed. from Vice President Joe Biden's recent controversy to the welfare work requirement, the two staunchly made their case — with Sununu plainly deeming Team Obama "losers."
Hannity began lamenting that the 2008 campaign of hope and change has descended into a campaign of smear, slander and character assassination. Au contraire, Williams argued: Obama wasn't the one who started it! Republicans have been against him from the start, even questioning his patriotism.
At that point Sununu jumped in, bluntly labeling Team Obama "losers." They've run the country into the ground, they're desperate and they can't run on their record, he said — adding, "They can move to racial unrest if they want, but the American public is seeing through these phonies and it's going to be a big election in November for Mitt Romney."
That led to arguing over recent polling numbers and which candidate is actually ahead at the moment, as well as a tangent in the Medicare fight both sides have been engaged in. Needless to say, Williams and Sununu found themselves opposed in the same way the campaigns have.
Sununu later said that the Obama administration's waiving the work requirement for welfare is against the law, it's "illegal" — spurring conflict over whether there's validity to that claim about the work requirement. In his defense, Williams invoked Bill Clinton's remarks supporting Obama's statements about the issue.
In the end, Hannity agreed that Sununu summed up the situation perfectly in characterizing Obama and company as "losers."
"The guy's reacting because he's losing," Sununu said.
Take a look at the segment, via Fox News:

Have a tip we should know? [email protected]