John Sununu On MSNBC: There's 'Wisdom' In Romney's Police/Firefighters Comment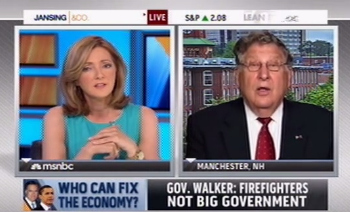 On Monday morning's edition of MSNBC's Jansing & Co., Romney campaign surrogate former New Hampshire Governor John Sununu defended the candidate's comments that the nation does not need any more public employees, saying that "there's wisdom in the comment" and that as population increases at a slower rate and technology improves efficiency, there is less need for employees on the public payroll.
"There are municipalities, there are states where there is flight of population," Sununu said, "and as the population goes down, you need fewer teachers. As technology contributes to community security and dealing with issues that firefighters have to deal with, you would hope that you can, as a taxpayer, see the benefits of the efficiency and personnel that you get out of that."
Host Chris Jansing seemed baffled by this claim, saying that "even if there's movement to the suburbs, teachers and policemen are needed somewhere."
"There are places where just pumping money in to add to the public payroll is not what the taxpayers of this country want," Sununu replied.
"Do you think that taxpayers of this country really want to hear 'fewer firefighters, fewer teachers, fewer police officers' from a strategic standpoint?" Jansing asked in return.
"If there's fewer kids in the classrooms, the taxpayers really do want to hear there will be fewer teachers. Absolutely," Sununu said.
– RELATED: Scott Walker Responds To Romney Comment: 'Firemen And Police Are Not Big Government'
Jansing found that argument to be very "geographically-specific," to which the former governor said, "You have cities in this country in which the school population peaked ten, fifteen years ago, and yet the number of teachers that they have maintained has not changed. I think this is a real issue, and people ought to stop jumping on it as a 'gaffe' and understand there's wisdom in the comment."
Check out the clip below, via MSNBC:
>> Follow Andrew Kirell (@AndrewKirell) on Twitter
Have a tip we should know? tips@mediaite.com