John Sununu To Hannity: Feinstein 'Got Cory Bookered' After Comment On White House Leaks
Sununu: Feinstein 'Got Cory Bookered' After Comment On White House Leaks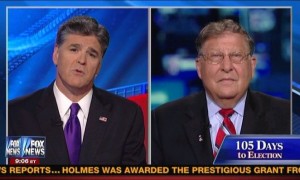 Former New Hampshire governor and Mitt Romney campaign surrogate John Sununu sat down with Sean Hannity today for another fiery appearance where Sununu ripped President Obama for pushing a class war mentality and commenting that Senator Dianne Feinstein was "Cory Bookered" by the Democrats after her remarks on White House intelligence leaks earlier today.
RELATED: Democratic Sen. Feinstein Accuses Obama White House Of Leaking Sensitive Intelligence To Press
Hannity began by noting Sununu's fiery interviews in the past few weeks, and asked him why few other Romney campaign surrogates are as excited and energetic as he is. Sununu joked, "They're probably not as crazy as I am," before ripping into Obama's comments on small business. He said that Obama can't claim that he was misquoted on the "you didn't build that" comment because whenever he gets a chance to talk about the economy, he brings up "class warfare."
Sununu then reacted to a clip of Obama saying that "just like we tried [the Republicans'] plan, we have tried our plan and it worked, that's the difference." Sununu mocked the idea that Obama's plan worked when unemployment is over eight percent, and bashed the president's economic plan for what he deemed to be "insanity."
"This president, his administration, and his campaign, they're delusional. They're out there trying to convince, first of all, themselves, that things are okay. And then they're trying to convince their constituents. Einstein had a saying that insanity is doing the same thing over and over and expecting a different result. That, in my opinion, is a definition of incompetence."
Sununu also shared his thoughts on Feinstein, saying that as a result of her remarks that the White House is leaking classified intelligence, she got "Cory Bookered," referring to whey the Newark mayor called out the president's campaign for negative ads and immediately walking his statements back.
Watch the video below, courtesy of Fox News:
Have a tip we should know? tips@mediaite.com
Josh Feldman - Senior Editor