John Walsh Previews CNN Crime Show, Says Congress 'Scared Sh*tless' of Tea Party on Guns
CNN's John Walsh: Congress 'Scared Sh*tless' of Tea Party on Guns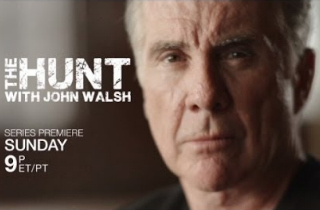 While previewing his new CNN crime show on Monday, iconic crime TV host John Walsh cemented himself as a firm opponent of tea party efforts to halt universal background checks for gun purchases.
During a press luncheon in New York, Walsh suggested that lawmakers being "scared shitless" of the tea party has been the biggest obstacle in passing universal background checks as a new requirement for gun sales.

He also indicated that he would happily take up Piers Morgan's mantle as a leading TV advocate for tougher gun laws: "No matter how what you felt about Piers, he was the only real journalist that had the balls to tackle the gun problems straight on," Walsh said.
The new CNN host was in town to discuss the launch of his new original series, entitled The Hunt, which will continue the fugitive-hunting mission set forth by his long-running Fox series America's Most Wanted. The show will use Facebook (which is already involved with the National Center for Missing and Exploited Children) to give the search for select fugitives — often accused of rape, murder, and sexual abuse — an extra dose of interactivity for its audience.
While the show will likely not focus on political issues like gun control, Walsh delivered fiery remarks on the subject when asked about violence in America.
"I'm a gun owner. I've hunted all my life. I hunt quail on my own ranch," he told reporters. "And I am the biggest advocate for background checks of any gun owner in America."
Walsh later posed a question for lawmakers: "If we really love our women and children, why do we allow this amount of crime and exploitation of them to go on? Why don't we do something different?"
Among his suggestions for reducing gun violence: Increased mental health checks — "I could name 15 first-world countries that check your mental state before you get a gun," he said — and a requirement that gun manufacturers include a GPS tracking device in every weapon.
"Everyone of us have a GPS chip in our cellphones," he said. It's not Big Brother to put those GPS chips in that AK-47."
At another point, Walsh relayed a conversation he once had with Vice President Joe Biden on the matter:
I told [Biden], "You know 90-percent of Americans are for responsible background check for a gun and you know what this Congress has done? Not voted on it not brought it to the floor, not introduced a bill." I said, "They're all scared shitless of the NRA, aren't they?" And, he said, "John, every one of them. Because the NRA will run a tea-bagger against you and… they'll put 5 million bucks against you and run a tea party candidate and knock you out."
The Hunt with John Walsh was produced by the same outfit that put together CNN's largely successful Parts Unknown series with Anthony Bourdain.
The program debuts July 13 at 9 p.m. ET.
[Update — Wed., July 9, 2:52 p.m. ET: Facebook has not officially partnered with the show. We have updated accordingly.]
— —
>> Follow Andrew Kirell (@AndrewKirell) on Twitter
Have a tip we should know? tips@mediaite.com