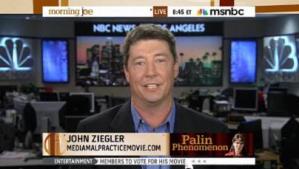 John Ziegler was back on the air with his favorite sparring partner this morning, MSNBC, in an interview with Joe Scarborough on Morning Joe.
And the Sarah Palin filmmaker and fan had mostly positive things to say about the former VP nominee – although some surprisingly negative comments as well.
Both Scarborough and Ziegler praised Palin's appearance on Jay Leno. "My gosh this woman, when she is comfortable in front of a camera, can hold an audience better than anybody," said Scarborough.
Ziegler: "I thought she was outstanding. If she hadn't already been destroyed by the news media she'd be in great shape right now."
But then Ziegler talked about the "new," post-book tour, FNC contributor Palin. "The Sarah Palin of 2008 doesn't exist anymore," he said.
This is Sarah Palin 2.0 She had very limited options about what she was going to do with her future because she was unfairly destroyed, as my documentary proves, in the 2008 election…Since January of this year when she decided to become a Fox commentator, I believe she has gone down a path that makes it absolutely positively impossible in 2012 to beat Barack Obama.
When pressed by Scarborough, Ziegler cited her need to "appeal to non-conservatives or at the very least moderate conservatives," which she hasn't done by "cozying up to people like Glenn Beck, and elements of the tea party that I think she's rather naive about."
It was a fairly harsh critique of Palin's political future by someone who certainly is a huge Palin supporter. And while he says she has been "brilliant" in the way she's dealt with the media since Going Rogue was released, someone with a direct line to Palin is putting his money on a future outside of the political spectrum. And he would know.
Here's the full interview – Ziegler almost made it the whole five minutes without a knock at MSNBC as a whole:


—–
» Follow Steve Krakauer on Twitter
Have a tip we should know? tips@mediaite.com