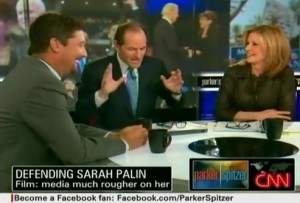 On Friday, Parker/Spitzer co-host Kathleen Parker announced that she is leaving the show. In a guest column, John Ziegler, radio host, Palin confidante, and the filmmaker behind Media Malpractice: How Obama Got Elected and Palin Was Targeted, offers his commentary on Parker's departure from CNN.
The views expressed in this guest column are those of John Ziegler alone.

About three months ago, I predicted that CNN's Parker/Spitzer show was "not long for this world." I made this hardly earth-shattering prediction just after I appeared on the program to discuss the national rerelease of my documentary, "Media Malpractice… How Obama Got Elected and Palin was Targeted," where I confronted Kathleen Parker about her role in the "assassination" of Sarah Palin during the 2008 election cycle.
Bizarrely, a clearly startled Parker responded by actually taking credit for having "led" the "assassination" of Palin. This smackdown created news and even inspired Palin to tweet about the episode. The whole thing was almost certainly the most memorable moment in the show's short and forgettable history, and is emblematic of why Parker was indeed just let go from the program. From CNN:
There are many reasons why Parker's short stint on CNN didn't work. Some weren't even really her fault. The taped format was antiquated, boring and stuffy. Creating chemistry with a notorious dog like Eliot Spitzer would have been impossible for any "conservative" female to do without turning themselves into an almost literal call girl. Plus, the show's time slot is the most competitive in cable news television.
But the primary reason why the program couldn't work is also the very reason Parker got the gig in the first place. She was clearly hired because she was perceived as a "conservative" who was willing to vigorously attack Palin, while not holding any particularly strong conservative opinions which might offend the largely liberal CNN audience. It is hardly a secret that the best (and perhaps only) way for an unknown or career-challenged conservative to achieve mainstream media acceptance is to be a sellout to their supposed cause (just ask Arianna Huffington, Peggy Noonan, David Brooks, David Frum, Michael Smerconish, or Joe Scarborough, to name only a few).
Criticizing Palin (along with endorsing Obama) has quickly become the most reliable path to instant notoriety/credibility for ambitious "conservatives," and Parker became the poster child for this phenomenon. When I went on CNN during my film's first release, I was actually asked to respond to a Parker quote about Palin. This was especially absurd because Parker had no special knowledge of Palin and was virtually unknown before she "led" Palin's "assassination." Had Parker praised Palin, CNN would never have found the quote remotely newsworthy.
However, there is apparently a downside side to getting a show this way. Much like a guy who spends all his cash to get the girl and has nothing left to keep her, Parker had no capital with which to make the show a ratings success. Conservatives, most of whom don't trust CNN to begin with, had no reason to tune in, and she was such a soft and colorless "conservative" that she didn't even make for a fun punching bag for the liberal audience, or her overrated co-host (based on my experience Spitzer is actually quite dumb). The sad reality of cable news television today is that you must be polarizing to "succeed." Moderation or wimpiness simply won't work, especially when such a temperament is clearly contrived, and not backed up with any real talent.
With no spark, no friction, no talent, and no audience base, Parker brought nothing to the table, and the show was clearly doomed. In the end, she got the fate that she clearly deserved, only probably better.
There is also an interesting secondary element to Parker's demise which might make media pundits a little more hesitant to attack Sarah Palin. Since the 2008 election, many of her biggest media critics have found themselves out of a job. Keith Olbermann, Rick Sanchez, David Shuster, Alan Colmes, Campbell Brown, John Roberts, Larry King, Harry Smith and Parker are all prominently mentioned in my documentary and all of them have been let go from TV jobs since Obama got elected.
Coincidence? Perhaps, though I have no doubt that if the media wanted to create a narrative here there would be more than enough data to justify it. Regardless, if Chris Matthews is smart, he might want to be careful.
Have a tip we should know? tips@mediaite.com