Jon Huntsman Announces Candidacy: "This Is The Hour When We Choose Our Future"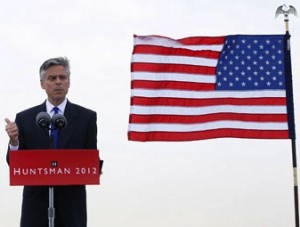 Former Utah Governor and U.S. Ambassador to China Jon Huntsman officially announced his presidential candidacy in Liberty State Park, New Jersey this morning, the same place Ronald Reagan kicked off his 1980 presidential campaign.
As he stood outside to make his candidacy official, Huntsman credited the late president, saying "I stand in his shadow." Most of his speech contained the same rhetoric Reagan used about the greatness of America and the economic challenges the country faces.
With the Statue of Liberty and two American flags behind him, Huntsman announced, "Today, I'm a candidate for the office of President of the United States of America." When the applause died down, he immediately quipped, "My kids can't believe I said that."
Huntsman said he was worried about the lack of economic opportunities for this generation of young people, and declared it was "totally un-American" to leave the next generation with less than their parents were given. Despite the nation's current financial crisis, Huntsman still played up America as a beacon of freedom for other nations. "The view of America from ten thousand miles away is a picture of liberty, opportunity, and justice."
He called for stronger, more trustworthy leadership "that looks to local solutions from our cities, towns, and states." As Huntsman told the crowd of his experience in state government, he said one thing he learned was that "for most American families, there is nothing more important that a job."
Huntsman laid out the challenges he would have to take on if he defeated President Obama in the election.
"We must make hard decisions that are necessary to avert disaster. If we don't, in less than a decade, every dollar in federal revenue will go to cover the costs of Medicare, Social Security, and interest payments on our debt. Meanwhile, we'll sink deeper into debt for everything else from national security to disaster relief. Our country will fall behind the productivity of other countries; our influence in the world will wane. Our security will grow ever more precarious, and the 21st century will then be known as the end of the American century. We can't accept this and we won't."
On the subject of civility, Huntsman expressed his concern that "civility, humanity, and respect are sometimes lost in our interactions as Americans. Our political debates are corrosive." He promised to run his campaign "on the high road" and not unfairly go after his political opponents.
"Of course we'll have our disagreements, that's what campaigns are all about. But I want you to know that I respect my fellow Republican candidates, and I respect the President of the United States. He and I have a difference of opinion on how to help a country we both love."
But ultimately, Huntsman said, the race boils down to who would make a better president, not who is the better American.
You can watch his announcement below, courtesy of Gamut News:
Have a tip we should know? tips@mediaite.com
Josh Feldman - Senior Editor