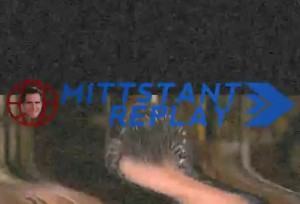 In the competition for the GOP's Best in Show, the junkyard dogs are barking. Yesterday, Rep. Ron Paul released a brutal attack ad against national polling leader Newt Gingrich, and this morning, former Utah Gov. Jon Huntsman put out a web spot that takes apart New Hampshire frontrunner Mitt Romney's interview with "overly aggressive" Fox News anchor Bret Baier. Looks like Paul and Huntsman, each polling double digits in early voting states, are duking it out to be the next Not-Mitt.
Romney's poor performance, compounded by his later complaints that Baier was "overly aggressive," is on full display in Huntsman's ad, which interrupts Romney's protests with smoking-gun clips that drive the fork in deeper. Substantively, it's very effective, but Huntsman really ought to hook up with Paul's campaign, or with Bill Burton, to get past the cheesy underproduction that has dogged his ads. This one, for example, has a great hook with "Mitt-stant Replay," but has no score, and uses an arcane rewind effect.
Here's the spot, via YouTube:
With scant weeks before Republicans go to the polls, Huntsman's New Hampshire numbers wouldn't ordinarily look too scary. In the most recent Rasmussen poll, he's at 11%, 23 points off the lead. If this year's race has taught us anything, though, it's that a lot can happen in a few weeks, and in fact, does happen. Huntsman and Ron Paul, who's at 14% in NH and is polling in second place in one Iowa poll, each have decent cause for optimism.
The mercurial nature of this primary has been blamed on the combination of a weak field, and a fundamental distaste/distrust for consistent polling leader Mitt Romney, but the 2011 media machine also has a lot to do with it. Even in the scant years since 2008, the media has changed a lot, with social media and the ever-shrinking news cycle playing a much more influential part. Every little thing these candidates say matters, and it's all available for embedding on your favorite website.
The most tangible result of these changes is that the debates matter more than ever. They have become social media Super Bowls, with the highlights and lowlights disseminated far and wide. That's a distinct advantage for bubble candidates like Ron Paul and Jon Huntsman, who can make gains on wounded frontrunners like Romney and Gingrich quickly. Huntsman's failure to qualify for the next debates in Iowa hurts, but he'll still have a shot in the New Hampshire debate, days before that state's primary. Ron Paul, on the other hand, will have ample opportunity to take Romney and Gingrich out, but he also has to deal with a mainstream media that simply refuses to acknowledge his existence.
Even without the debates, though, Huntsman can benefit from another growing media phenomenon: the completely free web ad. Nowadays, any candidate or committee can produce an ad very cheaply, and if it's compelling enough, cable news channels will play it incessantly, free of charge. On Morning Joe today, for example, host Joe Scarborough played a very long stretch of Ron Paul's two-and-a-half minute nuclear attack on Newt Gingrich. That's why Huntsman could really use some production mojo.
Paul's ad showcases the most compelling reason to think that Newt Gingrich's days at the top  are numbered. In the search for the anti-Romney, Newt Gingrich turns out to have out-Romneyed Romney. Ron Paul, Rick Santorum, and Jon Huntsman are all that's left of the GOP bench. The next few weeks will determine who can make the best case to "Put me in, coach!"
Have a tip we should know? tips@mediaite.com