Jon Huntsman Gets Riled Up About Republican Debt Crisis 'Lunacy' In Piers Morgan Interview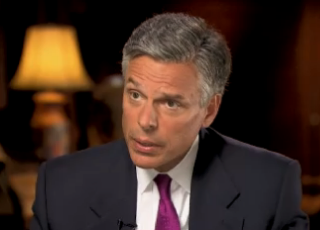 Jon Huntsman has fallen a bit off the radar lately, but more recently has siphoned a bit of the spotlight onto himself again by railing against some of the things his opponents most vocally stand for: opposing global warming, decrying compromise and making grand promises. In an upcoming interview with Piers Morgan, Huntsman calls the Tea Party's stand against raising the debt ceiling "lunacy" and worries that the uncompromising attitude could damage the nation.
"It was the height of irresponsibility," Huntsman tells Morgan in a clip released of his interview airing next week, where the presidential candidate discusses the debt ceiling the debate. He argues that he could not understand how some Republicans were considering to let "the United States of America, that has never defaulted before, go over a cliff," and acknowledged that America wasn't the only country in trouble. Going against the ideas of several of his competitors, Huntsman called the proposed credit default "complete lunacy for people to even think about."
Huntsman also answered a few questions that have some of his detractors concerned about his tenure working for President Obama. "I love this country– you serve her," he responded, noting that "there's not a personal relationship" between himself and the President, but that he was simply his boss– a "good" and "earnest" man who had failed at his job.
This follows up a busy Twitter week for Huntsman, where he noted he believed in climate change and evolution (and loved Captain Beefheart, for some reason). He is also scheduled to appear on This Week with host Jake Tapper tomorrow.
The segment via CNN below:

Have a tip we should know? tips@mediaite.com