Jon Huntsman: 'Gone Are The Days Where The Republican Party Used To Put Forward Big, Bold Visionary Stuff'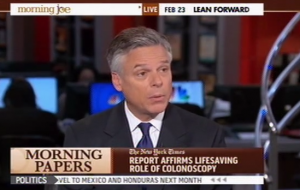 Former GOP candidate Jon Huntsman was a guest on Thursday's Morning Joe and hit on everything from what derailed his own candidacy to the need for a third party. First, however, he offered his opinion on what's wrong with the current crop of GOP candidates.
"What is going on with our party?!" Host Joe Scarborough asked.
"Well first of all, I have a hard time tuning into these debates, you have these flashbacks now and again that aren't always so pleasant," Huntsman joked. "Because we've had far too many of them, and I think because we've had so many of them, they've dumbed down the value of debates and people watch them for entertainment value." Hunstamn compared the debates to the TV show Survivor.
"Gone are the days," he added, "where the Republican party used to put forward big, bold visionary stuff."
The former Utah governor was then asked why he didn't seem to connect with voters. "Well," Huntsman said, "I didn't pander." And if you're not willing to pander, he explained, you don't raise money. And without money, you don't get momentum. "I think fundamentally, and I'm being very honest about this," Huntsman said, "I think people held against me the fact that I crossed a partisan line in serving this president in putting country first."
Huntsman then said that it might be time for a third party to emerge, and drew the parallel to 1856, when the Republican party emerged behind John C. Fremont. A few years later, Abraham Lincoln was President. "We're going to have problems politically until we get some sort of third party movement, or some alternative voice out there, that can put forward new ideas," he said. "That ain't going to be me, by the way — I know the next question — I'm not interested in that. But someone's going to step up at some point, and they're going to say, 'We've had enough of this.'"
Panelist John Heilemann, in hopes of clarifying, asked point blank: "You basically called for a third party, right?"
"I think that's the healthy thing," Huntsman replied.
Watch a clip of the interview below, courtesy of MSNBC:
Have a tip we should know? [email protected]