Jon Huntsman Hesitates To Answer Chris Wallace Whether He Will Make An Independent 2012 Bid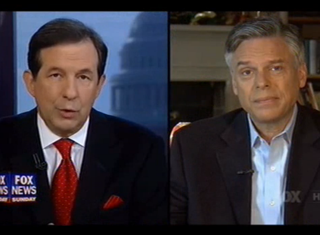 Jon Huntsman is making a big push for New Hampshire. The candidate, who is now regularly landing in 2% of the polls, was on Fox News Sunday today discussing his bid, and, with his poll numbers modestly on the rise in New Hampshire but his support apparently much greater among independents, host Chris Wallace wondered whether Huntsman was considering an independent run– or at least not backing the ultimate Republican nominee. What resulted was an awkward moment in which Huntsman repeated several times that he is a Republican, ultimately saying that, yes, he will endorse the Republican nominee.
RELATED: Jon Huntsman Warns The GOP: 'You Cannot Run Away From Mainstream Science'
The conversation with Wallace went all over his politics, which he insisted he was not going to change to curry favor with the base. "I'm not going to contort myself into a pretzel into something I'm not," he told Wallace, despite the polls. He did express optimism that "people are saying, 'Who is this Huntsman guy who puts country first?'" echoing the McCain/Palin 2008 slogan– whether intentionally or not, it is unclear.
Wallace and Huntsman had a difficult exchange on immigrant, as Wallace pointed out that the positions Newt Gingrich and Rick Perry took calling for more understanding about the twelve million illegal immigrants currently in America were very similar to Huntsman's. "We've got to be honest about the first step we have to take," Huntsman replied, "…and that is securing the border." Sensing that Huntsman was trying to shirk the question off, noted that "a record is a record" and as governor of Utah Huntsman had supported helping the children of illegal immigrants with college tuition. "I'm not running from that at all," he responded, confirming his record but adding that it was only after securing the border that those policies should come into conversation.
RELATED: Jon Huntsman Shows Up On SNL To Talk About How Much He Loves New Hampshire
Wallace later asked whether he has been in contact with a group considering running an independent candidate against both President Obama and the Republican nominee. Huntsman denied being in contact with them, leading Wallace to a follow-up: "Can you flatly state right now that you will support the Republican nominee and you will not run as an independent?" "I'm running as a Republican, that's where I am," Huntsman responded, which Wallace noted was "not a denial." Huntsman did eventually confirm he would support the Republican nominee after the second prodding, however, but his hesitation may be a red flag for those who suspect he may be dissatisfied with what his party has to offer.
The immigration discussion and, later, Wallace's question on an independent bid via Fox News below:

Have a tip we should know? tips@mediaite.com