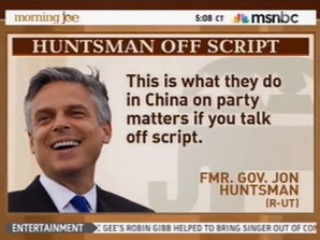 During an interview at New York City's 92nd Street Y over the weekend, former GOP presidential candidate Jon Huntsman told journalist and political commentator Jeff Greenfield that the current Republican party has at least one thing in common with communist China. He later appeared on Morning Joe to discuss his comments and the manner in which they've been covered by certain outlets.
"This is what they do in China on party matters if you talk off script," he said, referring to his having had his invitation rescinded from a Florida fundraiser last month after he had called for a third party.
RELATED: Jon Huntsman: 'Gone Are The Days Where The Republican Party Used To Put Forward Big, Bold Visionary Stuff'
Huntsman added that even the party's own beloved former President Ronald Reagan would likely not receive the party's nomination today. The Morning Joe crew discussed Huntsman's comments Monday morning, noting that he'd seemed to just stop short of criticizing the party's presumptive nominee, Mitt Romney, and joking that "these are the things you can say at the 92nd Street Y that you can't say in Iowa, for example."
Have a look, via MSNBC:
Hunstman later appeared on the show to discuss his comments as well as the manner in which they've been coverage, chastising media outlets like BuzzFeed (kind of, sort of) for having taken his comments "out of context:"
We were talking about all kinds of different things, waxing philosophical. And you get these blogs out there — you know, BottomFeeder, BuzzSaw, Buzzfeed, whatever they are — and they take a sentence out of context and it becomes a headline and pretty soon mainstream newspapers…
"Well, that's why we're here," joked host Joe Scarborough.
"There's something called responsibility in the media these days, Joe," said Huntsman. "Give me a break."
The former Utah Governor then reiterated earlier statements that he'd made calling for "bold, visionary" moves from the Republican party.
Watch, from MNSBC:
h/t Politico
Have a tip we should know? tips@mediaite.com